Parent and Carer Support
Support Resources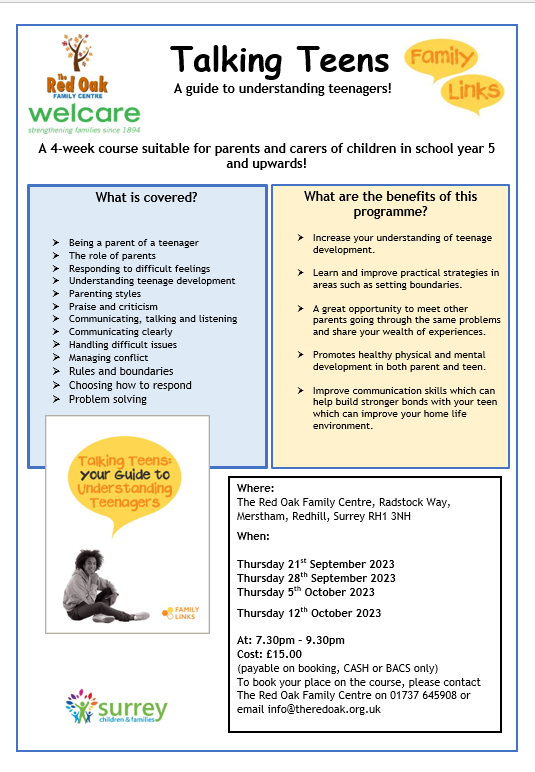 Mental Health Difficulties in Children & Young People
Andrew Tate Info from Carrington School
Andrew Tate Info from Hope Not Hate
County Lines - What is This, and What Can Parents Do? 
Our local YMCA East Surrey Community Wellbeing Team, offer really excellent FREE workshops for parents on a range of issues; some of these are in-person events and some are online.
Worth Warrior is a free, safe app to help young people with body image and eating difficulties
As an antidote to this situation, fighting like with like and using the mobile phone as a force for good, youth mental health charity stem4, with a grant from the NIHR, has created the Worth Warrior app.
It is a free evidence-based, mobile phone app to help young people overcome issues of negative body image, low self-worth, and related early-stage eating difficulties or eating disorders. The Worth Warrior app, recommended for ages 12 and above, has been developed by Consultant Clinical Psychologist Dr Nihara Krause, CEO and founder of youth mental health charity stem4, in collaboration with young people and clinician feedback. Using principles of Cognitive Behaviour Therapy for Eating Disorders (CBT-E), it provides a range of helpful activities and information, based on the notion that eating and body-related issues can be helped through learning to challenge and change negative thoughts, emotions, and behaviours towards body image, and improve underlying low self-worth.
More information can be found here Worth Warrior App