Super Nova; Our Most Able
As an inclusive school we have students who are very able and we aim to nurture their talents and capabilities to help them realise their full potential, both in terms of academic attainment and the skills and qualities they will take into the next chapter of their lives to build on.
All our teachers include strategies and activities to challenge higher-ability students day to day in their lessons. Additionally our Careers Lead Mrs Pearce, and Raising Aspirations Lead Mrs Robinson, work together with Heads of Faculty and other Senior Leaders to identify our Most Able students and to ensure they are accessing our programme of targeted provision.
Our More Able Strategy - Super Nova
Reigate College ASPIRE Pathway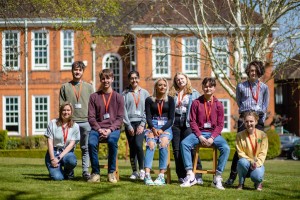 We work closely with Reigate College in a range of ways to make sure all Carrington students have options for their next steps beyond secondary school. Their ASPIRE Pathway provides targeted advice and guidance for high-achieving students to make successful applications to the most competitive courses at the most prestigious universities.
We begin offering opportunities at the College to students in Year 8 with special Maths and English events, then in Year 10 students with an interest in Medicine, Veterinary, or Dentistry careers can attend an 8-week course at the College. In Year 11 we identify potential Oxbridge candidates and these students benefit from some focused work with the College.
Universities Outreach Work
We take part in activities and events offered by both the University of Surrey and Imperial College London, which aims to support the development of aspirations and educational attainment amongst students from under-represented and disadvantaged groups.
We also link families and students to the Sutton Scholars programme provided by the Sutton Trust, which has the same goals.
Oxford University have created a set of really inspiring digital resources that students of all ages can access for free, to feed curiosity and broaden young people's thinking.
Summer Schools & Courses
There are great opportunities through Debate Chamber and InvestIN for students to find out more about specific career pathways and spend time learning with like-minded students during holiday periods. Although these are not free, we can support families who would like to have these opportunities but for whom the cost is a barrier through our ACE Foundation.
Is Oxbridge Right for You?
These resources can help you decide if you want to aim for Oxford or Cambridge University
Investin - A Comprehensive Guide to Oxbridge Applications
The Student Room - Five Things You Might Not Know About Oxbridge Applications