Food & Drink
The Observatory
The Observatory is our fabulous open-plan spacious and light-filled dining hall where hot and cold food is served at breakfast and in all break times through the day. Students are of course also welcome to bring in a packed lunch to eat in this area alongside friends.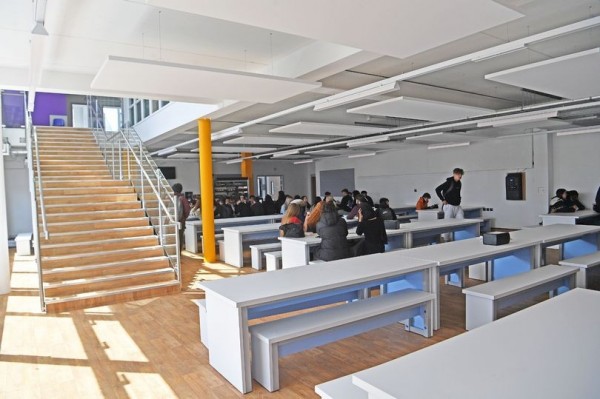 What we serve
Every day our caterers Innovate offer a hot main meal (meat-based or vegetarian option) for £2.60 which includes dessert.
Students can also choose the great-value Blue Dot Meal Deal, four items for only £2.60!
There are also jacket potatoes with fillings, pasta pots, salad options, freshly-made soup and bread, fruit and yoghurts Bakes & Treats and a Grab & Go selection, along with hot and cold drinks.
Cashless Catering
The Observatory operates a biometric 'cashless' system, where students can purchase items by simply placing their finger on a scanner at the point of sale or by swipe card.
Parent Pay
Parents can add credit to students' accounts via Parent Pay. This allows parents to monitor daily purchases, should they wish to. Students can also add credit to their account with cash, by using the machine located in The Observatory. By default, a daily spend limit of £5.00 will be set for all students.
Free School Meals
Application form for Free School Meals and Pupil Premium
Details of eligibility for Free School Meals are shown on the DirectGov website.
Government advice is that if a young person is eligible for free school meals, parents should apply regardless of whether the free school meal will be used or not, because extra funding is now given to schools to support the education of students who have been granted a free school meal. On behalf of the Local Authority, the school administers the arrangements for students whose circumstances entitle them to a free school meal. Please contact your Year Group Hub Coordinator if you have any questions about this.
Students who are entitled to Free School Meals will have their accounts credited automatically each day. If students miss meals, or don't spend their full daily allocation, this cannot be carried over to a future day. Parents are able to add extra credit to the student's account should they wish to, via Parent Pay.