World Book Day
3rd March 2022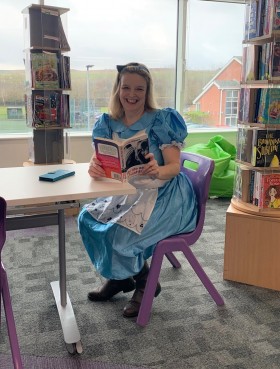 Many of our staff do enjoy dressing up, and World Book Day provided the excuse they needed. Here we have Alice in Wonderland, Mr Strong, Where's Wally, Pingu, Galadriel the Elven Queen, and a rogue viking.
Lots of lessons were terribly disrupted that afternoon too, as our team of "Reading Raiders" burst in to share extracts of their favourite books with students at random!
World Book Day is an important opportunity to remember that EVERY DAY is a good day to enjoy a book and disappear into the many different worlds that reading is a portal to.
Well done to Mrs Hymas our Librarian (Alice in Wonderland), for bringing these events together as always.