We met a FAMOUS person!
28th March 2022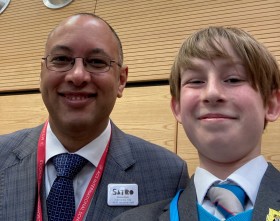 Our Year 8 STEM Ambassadors had an amazing day last week at ACS Cobham where they met Jon Tickle, the Physicist and Presenter of TV's Braniac! The day was spent working on the Humanitarian Engineering Challenge (considering the impact of building a bridge across a river in a remote part of Africa).
They also gave a presentation on what pharmaceutical companies should invest in, and talked to different companies about a range of STEM careers including the National Physical Laboratory, Thames Water and Air Products.
This was a fabulous way to round off all the Science-based events and activities that we'd been enjoying for British Science Week throughout the month.