New Building Names
2nd August 2021
We return in September to newly named buildings (previously South Block, North Block and East Block) as shown in the diagram below.
Each building is named for a star in the Summer Triangle, to complement the astronomical foundations of our new school name, as Richard Carrington was an esteemed Astronomer who made a number of important discoveries from his Observatory right here in Redhill in the late 1800s.
Altair is the brightest star in the Aquila constellation
Deneb is the brightest star in the Cygnus constellation
Vega is the brightest star in the Lyra constellation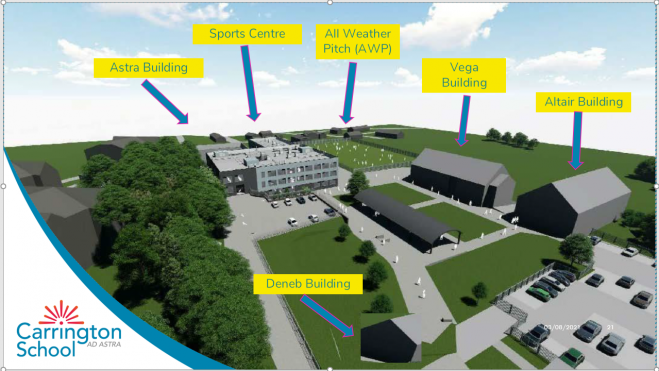 We are extremely proud to have been part of The Priority Schools Building Programme. Our amazing project is almost finished now with just the demolition and landscaping phase to complete over the next few months. This has provided our young people with a state of the art facility which will enhance the learning experience for all of our community. 
We moved in April 2021 and now our students enjoy the use of a 4-court sports hall with changing areas, a main hall with bleacher-style seating, a spacious dining area and new library, 9 new classrooms, 8 Science labs, 3 specialist DT rooms, a Drama studio, 2 ICT rooms and a suite of rooms for students with learning needs.