The Great Eco Clear Up!
13th September 2021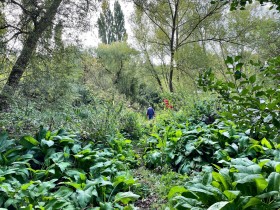 What a difference!
Yesterday, a group of volunteers including parents, students, governors, staff and the wonderful Redhill & Reigate Conservation team, removed many fallen willows from our Eco Area pond and cleared the brook of debris so lots of new-found light can make it's way through and we are ready for exciting nature activities such as Pond Dipping!
We could not do this without the heavy-duty equipment that the Conservation team bring, as well as their energy and expertise. 
Huge thanks to everyone who took part!
Our second big clear-up day of the year with Reigate Area Conservation Volunteers is on Sunday 3 October.
Everyone is welcome! Young people under 16 should be accompanied by an adult.
If you are interested in taking part, please email Mr Everett jeverett@carringtonschool.org 
You can see the changes in the below BEFORE and AFTER pics