Max is Head for the Day
17th June 2022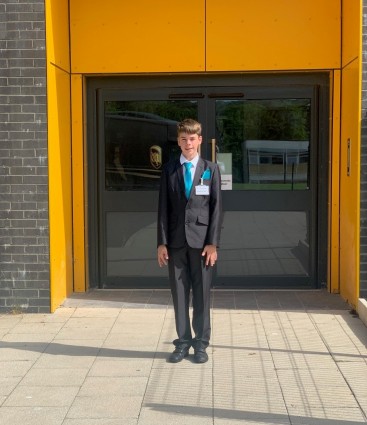 We're sure lots of students wonder how hard it is to be a Headteacher, and Max Orchard in Year 8 was recently able to find out first hand. He won the chance to step into Miss Oakley's shoes (not literally!) for the day on one of our Student Reward Scratch Cards, and totally looked the part in a smart grey suit and a blue silk tie and handkerchief that coordinated perfectly with our school colours.
Max thoroughly embraced this opportunity, taking up residence in the Headteacher's Office, assisted by Mrs Fish the Headteacher's PA, and beginning the day with School Assembly. Later that morning he oversaw a school publicity shoot and attended meetings with other Senior staff members.
Max said "it was such a fun and exciting experience! I learnt a lot about leadership and responsibility... this job certainly requires a great deal of hard work and determination!"