8s Exploring Higher Education
27th May 2022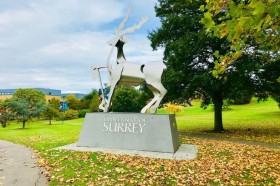 What is it like to go to University?
A group of Year 8 students spent two days this month down at the University of Surrey in Guildford to find out, taking part in a varied selection of activities for their Outreach Programme, which ended back at Carrington with a Graduation Ceremony. These students now have a much better idea of what this pathway would be like as they make career decisions over the coming few years.
They were excellent lively and enthusiastic ambassadors for us, making the most of the opportunities throughout the programme; Mrs Pearce, Mrs Blackwell and Mrs Robinson were proud to be with them.