Brilliant BTEC Acting Performances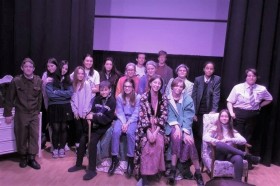 The BTEC Year 10 Acting students gave two evenings of intense performances in early February, to live audiences of friends and family.
They performed the play Same by Deborah Bruce, on Thursday 3 & Friday 4 February part of The National Theatre Connections series that make new plays for young people. Set in an old people's home in the week that Josie dies, her teenage grandchildren share their memories of her, exploring the question are we all actually the same inside, whatever our age?